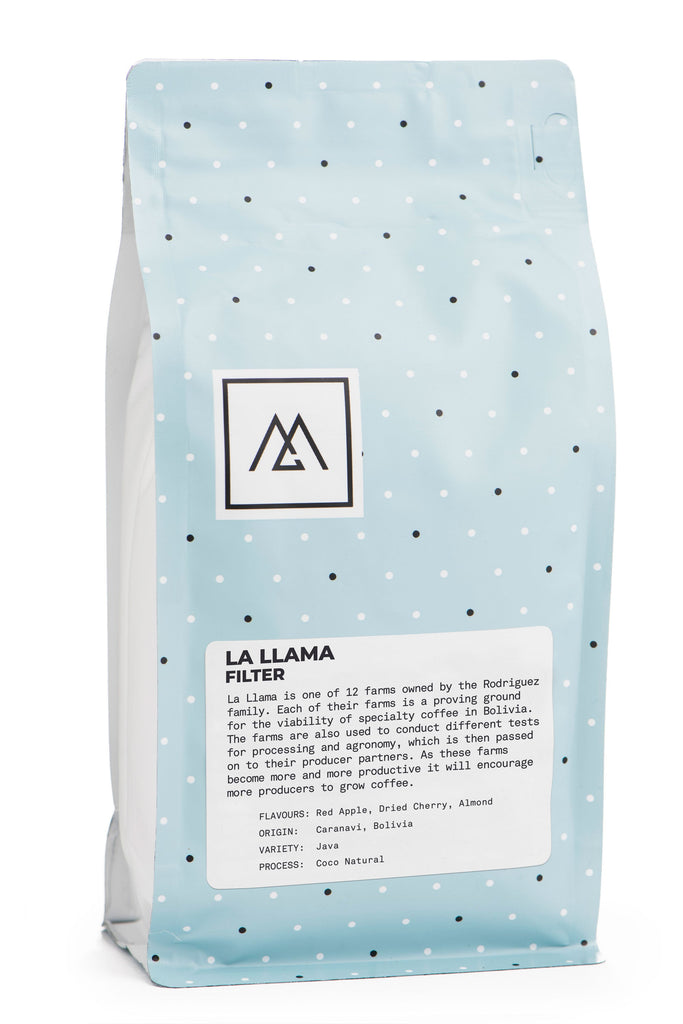 La Llama
$39.00 USD
FLAVOURS: Red Apple, Dried Cherry, Almond
ORIGIN:   Caranavi, Bolivia
VARIETY:  Java
PROCESS:  Coco Natural
La Llama is Agricafe's highest farm in Caranavi which is located in the settlement of Villa Rosario, a lush and steep mountain valley just outside of the town. La Llama has a diversity of native and timber trees that create ideal shade for growing coffee. The farm itself got it's name "La Llama", after Bolivia's most emblematic animal, the llama, and when the Agricafe team first went to go look at the land they encountered a proud looking llama there and thus, the name of the farm was born.
La Llama does grow many different varieties, but they are really well known for their beautiful caturras and javas. This particular coffee has been processed using Agricafe's Coco Natural process, which leaves coffee to ferment longer than the average natural process. They pay very close attention to their processing during every step to ensure that they produce the most delicious coffee that they can. They refer to this process as "Coco Natural" because of the way the bean resembles a cocoa bean at the end of processing.
The Rodriguez family is passionate about restoring the Bolivian coffee industry, and their idea to plant La Llama in this location was to re-activate coffee culture there and to generate a source of income for families living in that region.